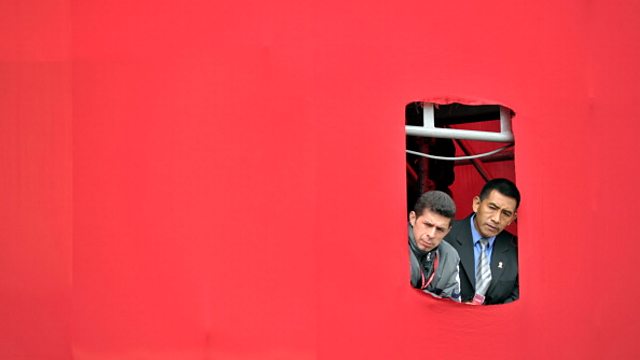 22/09/2012
A fresh look at the week's global news from across the World Service's 27 language sections, with Shaimaa Khalil.
UNPICKING COTTON PICKING
It's cotton picking season in Uzbekistan which means thousands of people are leaving their day jobs and heading out into the cotton fields. Every autumn life comes to a standstill as teachers, nurses, civil servants, businessmen and students are all summoned to harvest the crop. On the face of it, this could be seen as the people coming together for the good of the country, but in reality vast numbers of people including children are forced to leave their families, households and jobs to work in often difficult conditions. Amazingly the practice is so widespread that every single one of the producers in the Uzbek Service have picked cotton at some point in their lives. Diloram Ibramova and Luiza Khudaykulova talk through some of the highs and lows picking cotton
ONLINE GREATEST HITS
Thomas Pappon brings you the highlights from the World Service language websites this week - including enormous biceps, a dieting elephant and a controversial slap in China
ME AND MY MINDER
So, you're out in the field in Syria for example, it's tense, you're checking your facts, chasing your next interview and probably working around safety issues. You're talking to your editor who's asking again when you're going to file your piece and what it'll be about. And there, through all the research, recording and running around is your ever present government minder.They come in all shapes and sizes but often seem to sport moustaches and wear distinctive clothing. Bassam Andari, BBC Arabic's Newsgathering and Planning editor and Khaled Ezzelarab, BBC Arabic's Cairo correspondent share their experiences of handling government minders.
THE ISI WIVES: PART TWO
Last week we heard the first instalment of our three-part satire imagining the lives and secrets of the wives of Pakistani intelligence officers. It's no secret that relations between Pakistan and the US are tense at the best of times. In this piece of playful creative writing from the BBC's Urdu Service we imagine some of the antics that go on behind the scenes. Here, we'll introduce you to Fuff - the wife of an ISI officer - who is trying to get her husband up the promotion ladder. But what will be the consequences of her meddling?
ELECTIONEERING IN VENEZUELA
It's election time in Venezuela so journalists there are having to cope with late nights, deadlines and speeches lasting several hours. So spare a thought for BBC Mundo's Andean correspondent Abraham Zamorano who's had to put up with this and a lot more. He's been out on the campaign trail in Venezuela following the larger than life president Hugo Chavez and his opponent Henrique Capriles.
(Image: Two Peruvian security officials look out from the cut-out of a giant flag. Credit: Getty)
Last on
Mon 24 Sep 2012
00:32

GMT