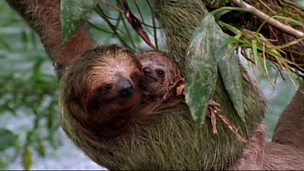 Moths and sloths
Duration: 01:51
The three-toed sloth lives in the trees and the hairs on its outer coat go green with algae. Living within the hair is a menagerie of up to 900 species which feed on the algae. The sloth moth is the most conspicuous of these travellers.
Once a week the sloth leaves the trees to visit special latrines on the ground. The moths are patient commuters, as this seemingly pointless and dangerous journey can take over an hour.
The moths can only lay their eggs in fresh dung, and they race to be first. The caterpillars will hatch here, feed on the dung and then pupate. When the adult moths emerge they find the sloths in the trees and the journey starts again.
Available since: Tue 28 Aug 2012
This clip is from
5/6 This programme looks at unexpected partnerships in the animal world.
First broadcast: 18 Apr 2002
Featured in...
Be captivated, informed and inspired by the world's wildlife.
More clips from Puzzling Partners