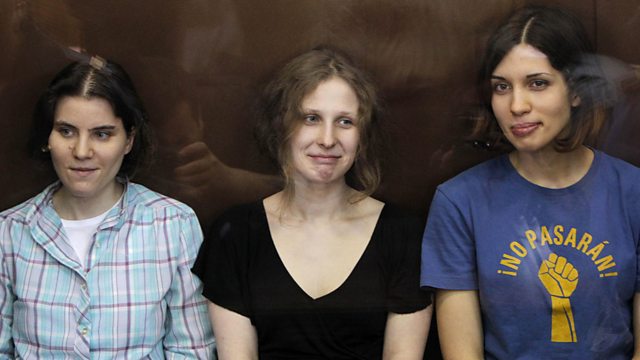 Pyotr Verzilov - Russian artist and political activist
To their critics they're publicity hungry blasphemers; to their minds they are feminist punk rockers protesting against what they say is Russian president Vladimir Putin's authoritarianism and sexism.
When three members of the Russian band Pussy Riot were jailed in August, there was an international outcry.
They were found guilty of hooliganism for staging an illegal performance early this year in Moscow's Cathedral of Christ the Saviour.
Zeinab Badawi speaks to Pyotr Verzilov, the husband of one of the jailed activists, Nadezhda Tolokonnikova.
Is Pussy Riot's high media profile the result of their shock tactics rather than real political clout?
(Image: Members of the female punk band Pussy Riot (R-L) Nadezhda Tolokonnikova, Maria Alyokhina and Yekaterina Samutsevich sit in a glass-walled cage during a court hearing in Moscow. Credit: REUTERS/Maxim Shemetov/Files)
Last on
Sat 15 Sep 2012
01:05

GMT