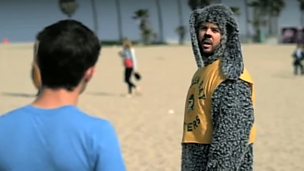 Ryan sees a dog and master demonstrate skills Wilfred envies.
Duration: 01:14
On the beach, abnormally sporty Wilfred tires of Ryan's whines, instead finding inspiration from another dog's abilities. However what they inspire is jealousy.
This clip is from
2/13 Wilfred's recovery reveals a competitive streak, while Ryan remains fixated on Jenna.
First broadcast: 23 Aug 2012