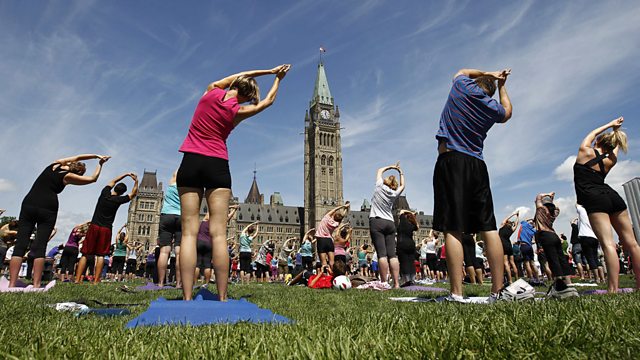 Russia and Canada
Insight, wit and analysis from BBC correspondents, journalists and writers from around the world. Introduced by Pascale Harter. In this edition:
"Russia for Slavs"
Protesting against President Putin isn't just for cosmopolitan liberals any more. Recent anti-Putin demonstrations have also featured marchers from the far-right: nationalists, objecting to what they see as Putin's lenient attitude towards immigration and multiculturalism. The most extreme amongst them are ultra-nationalists - known as skinheads - who blame immigrants for a rise in crime. Tom Esslemont has been getting to know Russia's ultra-nationalists, including an unnerving trip to eat burgers with a man called "Machete".
Inner calm, out of doors
In Ottawa - Canada's capital - a new summer ritual appears to be taking root: yoga classes on the vast lawn of Parliament Hill, the government centre right in the heart of the city. Under the watchful eyes of bemused tourists and Mounties, the number of people performing downward-facing dogs and tree poses on the Hill has swelled from just six to a few thousand. It's an innovative use of the public space - and a brave way to confront the Canadian great outdoors - as Sian Griffiths found out.
(Image: People take part in a free weekly yoga class on the front lawn of Parliament Hill in Ottawa. Credit: REUTERS/Chris Wattie)
Last on