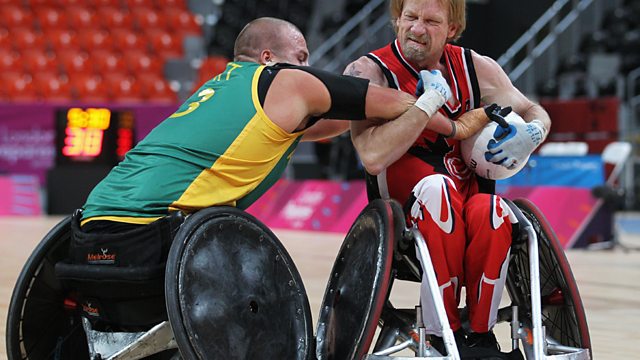 Canadian Wheelchair Rugby Team
Gareth Mitchell reports from Canada where he has exclusive access to one of the world's leading wheelchair rugby teams as they complete their last minute training before the Paralympics.
Invented in Canada, and originally called 'Murderball', wheelchair rugby has been an Olympic sport since the Sydney Games in 2000.
Now the game is spreading worldwide, with new teams springing up across South America and Europe.
On court, it's a battle of clashing metal and racing adrenalin, as the players smash into each other to score goals and block opponents.
As coach Kevin Orr concedes, it's not what people expect from people with disabilities.
"They're out for the adrenalin," he explains.
"They're out there for the bang. That's the mindset that you need to play this game at a high level."
Gareth meets this extraordinary team and finds out what lies behind their drive to succeed.
(Image: Ryley Batt (#3) of Australia and Garett Hickling (#5) of Canada battle for the ball on day one of the LOCOG Test Event for London 2012 International Invitational Wheelchair Rugby Tournament between. Photo by Dean Mouhtaropoulos/Getty Images)
Last on
Mon 27 Aug 2012
10:32

GMT