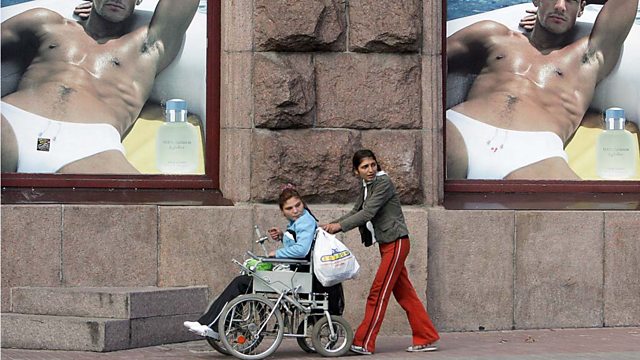 USA and Ukraine
Insight, wit and analysis from BBC correspondents, journalists and writers from around the world. Presented by Pascale Harter. In this edition:
Toughing it out
Remember the world grain shortage two years ago which analysts predicted would lead to social unrest? It was followed, sure enough, by bread riots in Mali, Tunisia, Egypt. There are even those who argue that the whole Arab Spring was triggered by a lack of affordable wheat when Russia cancelled its exports because of a particularly bad harvest.
The thing is, Russia isn't nearly as big a world producer of wheat as say, the United States. So what's happening to farmers there, this year, is really worrying. Paul Adams has been to America's agricultural heartland, and found the the farmers of Nebraska are having to take some agonising decisions.
Life on the sidelines
Excitement is mounting that the imminent Paralympics will provide as many surprises and as much joy as we've seen over the last few weeks of Olympic sport in London. These games are a celebration of the fact that everyone can and should be able to fulfil their potential and compete at the highest level.
But on a recent trip to back to her home country Ukraine, Olga Betko was disturbed to find that most people with disabilities there are still almost as invisible as they were when she was growing up.
(Image: A girl pushes a handicapped person in a wheelchair in front of a luxury store in Kiev. Credit: Sergei Supinsky / AFP / Getty Images)
Last on
Thu 16 Aug 2012
03:50

GMT