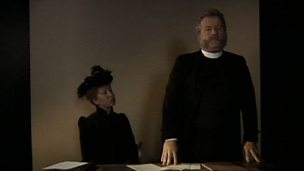 Poor housing in London in the 1880s
Duration: 03:30
Housing campaigners in the late 19th century spoke out about the links between poverty and disease. The clip includes the testimony of Charles Booth, businessman and philanthropist, who surveyed the East End of London; Octavia Hill, reformer, who speaks about the deplorable housing and insanitary conditions in Marylebone, London; and the Rev Samuel Barnett, minister, who asks the rich to do more to help the working poor. There is a particularly vivid description from Booth of a one room family who are ill-nourished and living off tea, bread, margarine and some supplements from the local parish. He describes them as, "...the poorest on my list but typical of a great many others".
Available since: Wed 18 Jul 2012
This clip is from
How industrialisation changed the day-to-day lives of the British people.
First broadcast: 28 May 2008