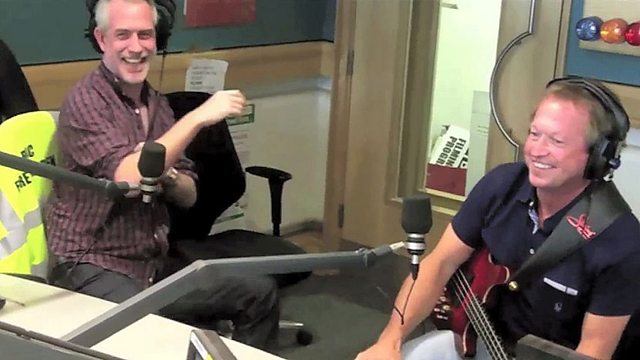 Matt Everitt's mastery of the bass revealed
Last week Shaun Keaveny's music news hound (and former Brit Pop drummer) Matt Everitt declared that he could play any U2 bass line as good as Adam Clayton.
In fact Matt affectionately called Adam Clayton a "chancer".
And so this Tuesday Shaun put Matt to the test and got him to play the bass along with U2 track New Year's Day. Think Les Dawson, on the bass instead of the piano, and you get the idea!
It just so happened that Level 42 bass wizard Mark King was listening to the 6 Music Breakfast show and offered up his services to teach Matt how to play the bass, and so he joined Shaun and the team in the studio this morning. The resulting rock school tutorial (with the nicest man in pop) was hilarious and saw Matt apparently quickly learning to play the slap bass. This video proves it was indeed all Mark!