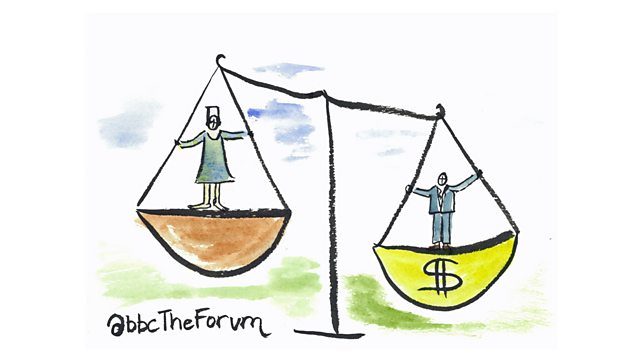 Inequality
We present a special edition of The Forum hosted by former President of Ireland, Mary Robinson. Do we have a moral responsibility to reduce inequality for the next generation? Is there a danger that by striving for equality between the sexes we're actually ignoring real differences between men and women? And is the idea of a world without extremes of inequality a utopian fantasy?
The first in a special series of Forum episodes where eminent thinkers lead discussions about the most pressing challenges of the age. This week former President of Ireland Mary Robinson chairs a discussion about a subject close to her heart: Inequality. Joining her in front of a lively audience at the RSA in London are Nobel prize-winning biologist John Sulston, Lawrence Goldman, Fellow in Modern History at the University of Oxford and Bangladeshi novelist Tahmima Anam.
Illustration by Emily Kasriel: equality or inequality - between rich and poor; men and women.
Last on
Sun 29 Jul 2012
15:05

GMT