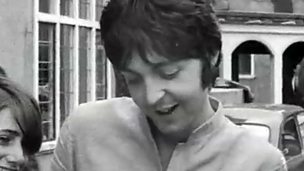 The Beatles in Wales: The day they went to Bangor
Duration: 03:39
In honour of Sir Paul McCartney's 70th birthday, BBC Wales has uncovered some silent footage from 1967 of The Beatles in Bangor, north Wales.

In June 1967, The Beatles released Sgt Pepper's Lonely Hearts Club Band, seen by many as their creative peak. Two months later, on 24 August 1967, they met Maharishi Mahesh Yogi at a lecture in London, and the following day travelled by train to Bangor in north Wales to embark on a 10-day conference on Transcendental Meditation.

The Bangor footage also contains shots of Pattie Harrison, Cynthia Lennon and Jane Asher - who was Paul McCartney's fiancée at the time. Also present were Mick Jagger and his girlfriend Marianne Faithfull.

The Beatles stayed in dormitories in Dyfrdwy, one of the halls in the Hugh Owen Building of Bangor University. Their rooms were simple, containing bunk beds and basic furniture, in a stark contrast to the luxuries they were used to.

On their first full day in Bangor an introductory seminar was given by Maharishi Mahesh Yogi. It was held in the main hall of the Hugh Owen Building, and was attended by around 300 people. Following the seminar a press conference was held, during which The Beatles renounced the use of drugs.

The Beatles' stay in Bangor was cut short when news broke of the death of their manager Brian Epstein.
Available since: Fri 15 Jun 2012
This clip is from
Audio and video clips on Welsh History and Heritage from BBC Wales.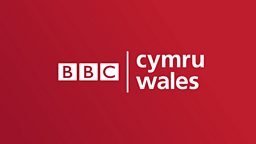 Featured in...
A collection of archive featuring Wales in the swinging sixties.

Highlights of favourite BBC Wales programmes reflecting the story of Wales and its people.