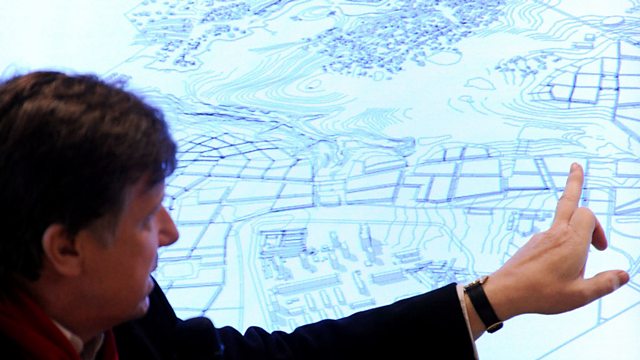 Russian start-ups
President Putin has said he wants to make Russia the fifth biggest economy in the world. It is now at number 11. He also wants to boost foreign investment as part of his new economic plan. But some foreign investors have been worried about Mr Putin's return as head of state, given the widespread public rallies in December after allegations of vote rigging, and a spate of recent protests. They fear the potential for future unrest which would be very bad for the bottom line.
And it's not just that. Despite all of Russia's rich resources and its place in the famous BRICs grouping of fast growing economies there's a general feeling that it's underperforming its potential. So what's holding it back? The BBC's former Moscow Correspondent Angus Roxburgh and later a PR advisor to the Kremlin explores the issue
Twenty miles West of Moscow a new technology race, rather like the space race of the 1960s is opening up. In an area of farmland Russia's trying to build its own version of Silicon Valley - the Skolkovo Innovation Centre. It's part of a government initiative to divert the country away from its huge economic dependence on oil and gas - towards a new kind of industry. That's been a key policy for Dmitry Medvedev, the man who was Russia's President until he was replaced by Vladimir Putin at the beginning of May. Another aim of this technology drive is to keep clever Russians in the country along with their money-making ideas. As things are, many of them leave, fed up with corruption and the weight of bureaucracy.
One tiny company that's taking advantage of the pro-technology climate is Lokata - a website which helps people locate things that they want to buy. Chief Executive Zhana Shalimova explains why she's taking the leap into starting her own venture. The funding for her company is coming from Fast Lane Ventures. Director Richard Creitzman speaks to Lesley about the attraction of investing in small Russian technology businesses.
While Fast Lane Ventures focuses on small businesses at the other end of the scale is a man who was named by the Financial Times as one of the top 25 Russians to watch. Sergui Beloussov is the founder of Parallels, one of the largest software companies to come out of Russia, and he's also senior partner at Runa Capital. He discusses the problems of doing business in Russia and whether who's in the Kremlin makes any difference.
(Image: French architect Jean-Marie Duthilleul presents plans for the innovation town of Skolkovo during a meeting of the Skolkovo Foundation's town planning council in Moscow, in May, 2011. Credit: Natalia Kolesnikova / AFP / Getty Images)
Last on
Wed 27 Jun 2012
11:32

GMT