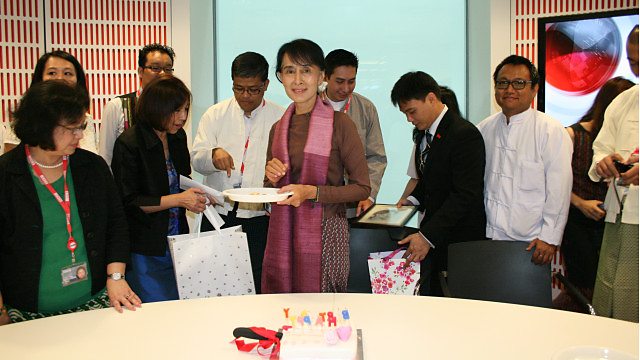 23/06/2012
A fresh look at the week's global news from the World Service's 27 language sections, with David Amanor.
AUNG SAN SUU KYI ON THE FIFTH FLOOR
The fifth floor of Broadcasting House was buzzing with excitement this week during the visit of Burmese pro-democracy leader Aung San Suu Kyi. She's free and travelling the world after spending more than twenty years mostly under house arrest. We hear why language service staff were tripping over themselves to greet her in the corridors and what it was like for Burmese producer David Kim and his team to have a more private meeting with her.
IN THE LINE OF FIRE
BBC Mundo's Ignacio De Los Reyes has been trailing Mexico's presidential candidates as they visit some of the most dangerous parts of the country hoping to win votes in the country's upcoming elections. He tells David about travelling to these areas where drugs gangs commit gruesome acts of violence and how security concerns can get in the way of telling the story.
ONLINE HITS
Our very own internet insights man Thomas Pappon has been scouring the BBC's online language sites to bring you their most popular stories. From drugs to baby faced leaders this week's biggest hitters come from BBC Hindi, BBC Russian and BBC Uzbek.
RADIO TO TV STAR
This week the BBC launched Focus On Africa TV expanding their flagship radio programme for African news into the dazzling light of global television. Other language services have already made this transition, but how easy is it? Presenters Peter Okwoche of Focus on Africa and Pooneh Ghoddoosi from Persian TV and senior producer for Russian TV Maria Grechaninova sit around the Fifth Floor table to share their thoughts.
CARTOON CONTROVERSY IN BANGLADESH
Kids in Bangladesh are going crazy for a popular imported Japanese cartoon, which is dubbed into Hindi, called Doraemon. However their parents aren't so thrilled, they fear their children are becoming more fluent in Hindi than their mother tongue Bangla or the international language English because of the show. Bengali service reporter and cartoon fan, Mir Sabbir, looks at the story.
(Image: Aung San Suu Kyi at the BBC. Credit: BBC)
Last on
Mon 25 Jun 2012
00:32

GMT