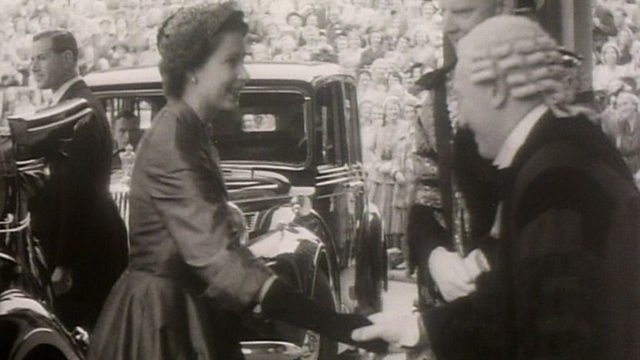 Queen Elizabeth visits NI in 1953
A month after her coronation the Queen came to NI for the first time as monarch. Accompanied by her husband, Prince Philip, she was just 25 years old. In stark contrast to later visits, when security was tight, Her Majesty's Stationery Office published a pamphlet, 'Programme of the Royal Progress', detailing every aspect of the glamorous royal couple's itinerary in Lisburn, Hillsborough, Belfast, Ballymena, Ballymoney, Coleraine, Lisahally and Londonderry. Cheering crowds greeted the Queen during her visit, with many lining the railway track from Lisburn to Lisahally (near Derry) as a special Royal Train transported the couple through the Ulster countryside and along the scenic north coast. The Governor of Northern Ireland, Lord Wakehurst, declared a public holiday so that as many people as possible could see the new monarch.
Featured in...
BBC archive clips of Queen Elizabeth II's visits to Northern Ireland.