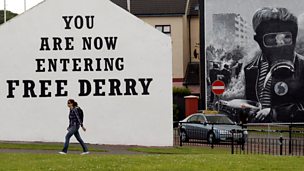 Punishment Shootings in Derry
Duration: 13:02
In a recent troubling development in Northern Ireland's history, a minority of young men are being 'shot by appointment' in Derry. This 'least worst option' – where their life is spared if they agree to be shot non-fatally – has evolved so that some parents are now accompanying their sons to the 'appointments'. A group of mothers have set up a group 'Move On' to counter the violence. Jane Garvey hears from parents of victims and talks to the BBC's Ireland correspondent Mark Simpson.
Available since: Fri 25 May 2012
This clip is from
Calmer parenting, 'punishment shootings', and osteoarthritis. Presented by Jane Garvey.
First broadcast: 15 May 2012