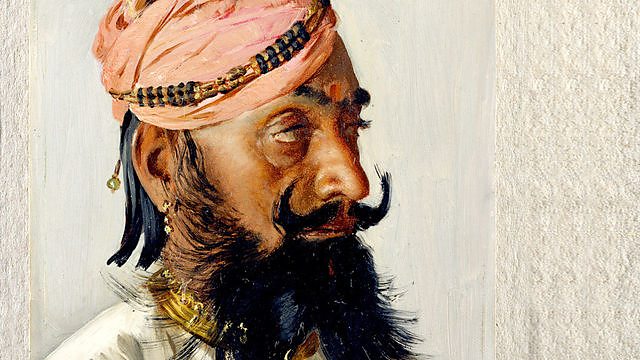 BBC Arts Editor Will Gompertz, presents a four-part exploration of almost 1000 years of the British monarchy as told through the objects of art they collected.
In a weekly journey that takes him from the wilds of Balmoral in Scotland to the isolation of Osborne House on the Isle of Wight, from the State Rooms in Buckingham Palace to the Royal Library at Windsor Castle, he selects choice items from the Royal Collection to see what they betray about the art of statecraft and a successful reign.
In each programme historians, academics and Royal Collection curators shed light on the mystery of kingship and the importance of faith, war, magnificence, progress and the people in the minds of monarchs. Each object in the series has its own story to tell and each reveals another aspect to the art of monarchy.
EPISODE FOUR
In part four, Will looks beyond the British isles to see the monarchy as a global force. Centuries ago, the Queen's predecessor and namesake Elizabeth I, presided over the very beginning of England's experiment in empire.
We see the world as she understood it, in the form of an early atlas. And as Will explores Britain's involvement in world affairs, he examines a shard of wood from the coffin of George Washington, a print of a merino ram which illustrates George III's impact on the Australian wool trade, a small woven cloth made with yarn spun by Gandhi - which contains an anti-imperial message written in Hindi - and a brightly painted chess set, presented to the Duke of Edinburgh by President Mandela in 1996.
(Image: A Peep at the Train, Bakshiram, Dorsaywala Gordenji and Sirinbai Ardeshir from a series of 82 portraits depicting Indians by Rudolph Swoboda (1859-1914). The sitters in this extensive series of portraits are generally ordinary Indian subjects. Bakshiram was a potter, alleged to be over 102 years old, from Agra; Dorsayawala Gordenji was a 50 year old tailor in the service of the Maharaja; and Sirinbai Ardeshir was a 14 year old Parsi from Nemuch)
Last on
Wed 13 Jun 2012
01:05

GMT
More episodes
Next
You are at the last episode