Thought for the Day - Anne Atkins
Duration: 03:04
The allure of the murder mystery is a curious one. A sweet old lady from a quaint village, an amateur violinist in a deer stalker, an Oxford detective who loves opera.

How different this comfortable fiction is from the terrible anguish of real life. Consider the Williamses, whose extraordinarily gifted son Gareth, mathematician and code-breaker for MI6, was found, overcome by asphyxiation or poison, padlocked into a zipped bag, in a flat clean of fingerprints and locked on the inside. Not reported missing for over a week though he was reported to be "punctual as a Swiss clock". How much greater the family's pain must be because of the uncertainties. There are so many things that don't make sense.

And yesterday was the fifth anniversary of the disappearance of a little girl whose blonde vulnerability caught the sympathy of the world. Her fate so compelling that for several years our own daughter, ten days younger than she, was frightened to be left alone in her bedroom. Again, much of the distress comes from the doubt. Who took her? For what purpose? And where?

Many years ago I was invited to meet a number of parents of missing children, after one of ours had disappeared for a mercifully brief but agonising day or two. The suffering of these mothers and fathers, not knowing and perhaps never to know where their offspring had gone, will haunt me for the rest of my days.

There is a compelling urge to discover. We have to find out why and who and how, until we can put the story to rest. We also long for restitution, any crime punished. Still today her parents exhort the police to follow up new leads as, her father said, "the only way Madeleine's abductor will be brought to justice".

It is these two elements that drive the appeal of the whodunnit. We start with questions and injustice. We press on till we have answers and a judgement.

And yet there's one murder mystery which has outsold every other, indeed every book yet written, which breaks all the rules of the genre.

Perversely, it starts with certainty. We know the Person who was done away with. We know exactly who did it, and why. We know when He died, with surprising accuracy. And how. Most significant perhaps, it was recorded precisely where the body was buried. No mystery about His death at all - which was absolutely what everyone wanted. A professional guard was even mounted on pain of death, so no mystique could be invented.

And that's where the uncertainty started. Why did the guard sleep on duty? Who opened the heavy tomb? Where did the body go, and how? Where is it now?

What was the explosive event that persuaded His friends that Justice had at last been fulfilled? Most mysterious of all perhaps, why did so many people subsequently believe an impossible explanation to be the least improbable?

And why do the heartbroken parents of a missing little girl still turn to this story for comfort?
Available since: Fri 4 May 2012
This clip is from
Reaction to the local election results from the Conservatives, Labour and the Lib Dems.
First broadcast: 04 May 2012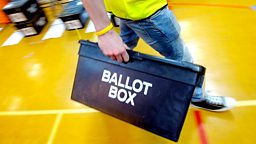 Featured in...
Reflections from a faith perspective on issues and people in the news.