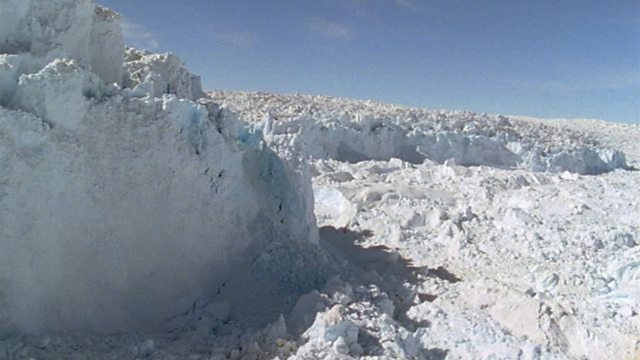 Origins of the Titanic iceberg
Each iceberg is unique, moulded by its individual journey through the polar seas. They float low in the water due to the sheer weight of the ice, which is why the tip of an iceberg is no measure of what lies beneath, and why to this day they are such a danger to ships.
The Titanic iceberg had its own secret history. But the International Ice Patrol has now traced where it came from. Thousands of miles due north of the collision site is Greenland. Eighty-five percent of all icebergs found in the North Atlantic come from massive ice fjords on Greenland's west coast - the biggest iceberg production line of them all.
Julian Dowdeswell of the Scott Polar Research Institute believes the ice shelf in Ilulissat is the most likely birthplace of the Titanic iceberg. This single wall of ice produces more icebergs than anywhere else in the northern hemisphere, fed from an ice-basin the size of England.
Icebergs from here take about three years to reach the North Atlantic. The iceberg that sank the Titanic would have calved in 1909 – just as work began on the ship itself.