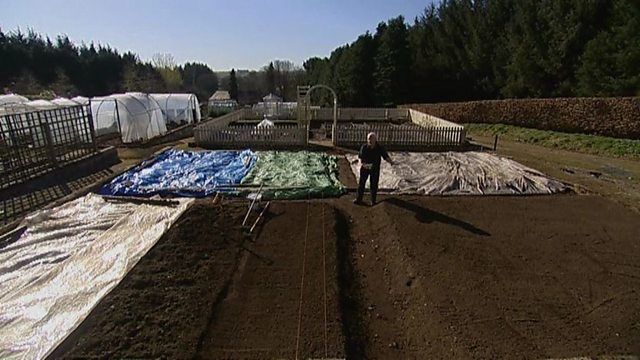 Jim in the Veg Plot
In the Beechgrove Garden, Jim and Carole are reviewing some of the trails that they began in the autumn. Did the winter flowering pansies do what they say on the tin and flower all winter? Did the newbies, the garvineas, make it through the winter at all? Did the dwarf narcissus that claimed to flower in February actually do so?
Jim and Carole were also in the garden on Valentine's Day in the second of the looks at Beechgrove in winter. On their special day, Jim was sowing sweet peas and starting off the previously dormant begonia tubers, and Carole was planting a bare root 'edible hedge'. Who says romance is dead?
Meanwhile, back in the garden in early April, Jim is taking cuttings from those same begonia tubers and nipping out the tops of the now sprouted sweet peas.
George is once again taking his precious bulbs to show at the Royal Caledonian Horticultural Society's prestigious Spring Show in the hopes that this time he might win more medals than 'the wife'.