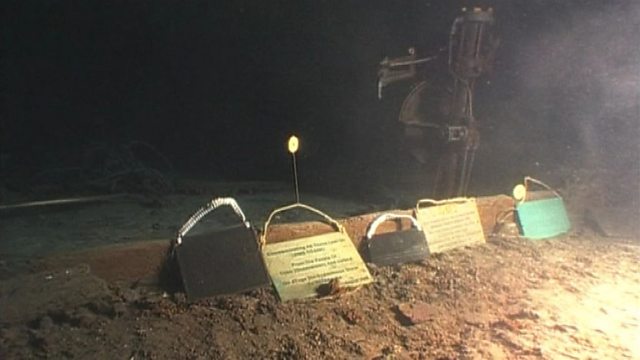 A memorial to those lost on Titanic
Irish diver Rory Golden's mission is to place a plaque from Harland and Wolff and the people of Belfast on the bridge of the wreck of Titanic. Golden describes the journey to the most famous shipwreck in the world as "the ultimate dive."
As the submarine navigates toward the bridge of the wreck, we can see memorial plaques laid by previous expeditions before that from Harland and Wolff is delicately placed alongside them by the MIR. The plaque reads: "In memory of all those who died on RMS Titanic. From Harland and Wolff and the people of Belfast."
Two plaques were actually taken on this expedition to Titanic – one was laid on the wreck's bridge while the other was brought back to Belfast. Now tarnished from the dive, it is the only item to return from Titanic to its birthplace.
Featured in...
BBC reporter Mike McKimm visited the Titanic's wreck in 2005, capturing amazing footage.