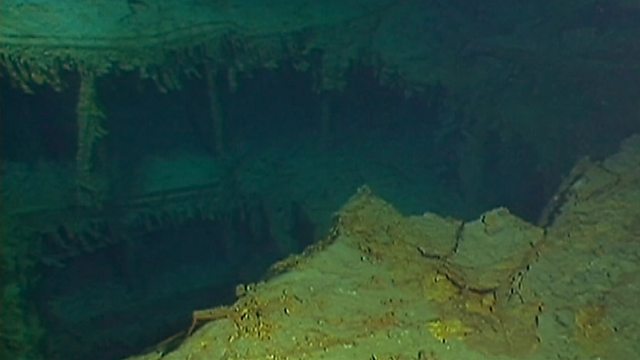 An exploration of Titanic wreck
BBC Northern Ireland's environment correspondent Mike McKimm, along with submarine pilot Anatoly Sagalevich and professional diver Rory Golden, explores the wreck of Titanic in a Russian submersible.
The roof above the Marconi Room, where the distress calls were sent from on the night Titanic sank, is deteriorating. There is a gaping chasm down into the ship, exposing the area where the famous grand staircase once stood. The entire ship is being overwhelmed by an endless veil of rust, slowly blinding her portholes, as a sweep of the starboard side clearly demonstrates.
Remarkably, given the damage to the rest of the ship, many of Titanic's windows are still intact and reflect back the light from the submarine. The collapsing structure of Captain Smith's quarters reveal another incredibly well preserved feature of the wreck – the captain's bath. The door through which 1st Class passengers would have boarded the ship is clearly visible below a collapsed upper deck.
Titanic broke in two as it sank, the bow and stern sections laying hundreds of yards apart on the sea floor, and the area between them is littered with coal from the ship's bunkers. The back of the ship has largely collapsed into twisted metal, but the huge engines are still recognisable.
Credits
| Role | Contributor |
| --- | --- |
| Producer | Marie Irvine |
| Presenter | Mike McKimm |
Featured in...
BBC reporter Mike McKimm visited the Titanic's wreck in 2005, capturing amazing footage.