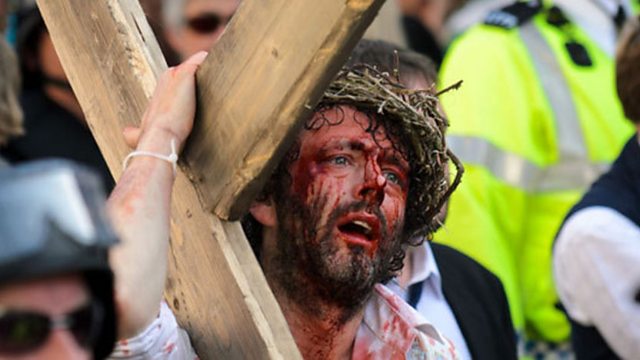 Passion in Port Talbot - The Crucifixion
Hollywood actor Michael Sheen's 'Crucifixion' scene is the moving grand finale to his 72-hour performance of The Passion in Port Talbot on his home town's Welsh seafront. Wearing a crown of thorns and with blood pouring down his face, Michael Sheen's character 'The Teacher' faces his inevitable end to a crowd of thousands.
On Saturday he ate a "last supper" of beer and sandwiches at a social club where there was a performance by rock band the Manic Street Preachers.
As well as starring in The Passion, Sheen also co-directed the production which had a core cast of 15 professional actors from Port Talbot. More than 1,000 local residents also took part in the National Theatre Wales production which was performed at venues across the town.
The play began at 0530 BST on Good Friday with a seafront scene, inspired by John the Baptist's baptism of Jesus, which was watched by hundreds.By the time the first main part of the play was performed on Aberavon Beach at 1500 BST, organisers estimated up to 6,000 people had gathered to watch.
On Saturday, there were sequences in Llewellyn Street, the Castle Street underpass, Aberafan Shopping Centre, the Seaside Social and Labour Club in Sandfields and nearby Abbeyville Court. On Easter Sunday, the production returned to Aberavon Beach as part of the finale.
A trial was performed on Civic Square before a procession from Station Road, with the final scene, "the cross", at Aberavon seafront.
Passion plays developed to tell the story of the trial suffering and death of Christ. Michael Sheen, known for his screen portrayals of figures such as Tony Blair, David Frost and Brian Clough, has said he was inspired by the community spirit of the Passion plays he watched at nearby Margam Park as a youngster.
Written by Welsh poet and novelist Owen Sheers, the Easter production was the last and largest of a series of National Theatre Wales "moving productions" in its first year.
Featured in...
Highlights of favourite BBC Wales programmes reflecting the story of Wales and its people.