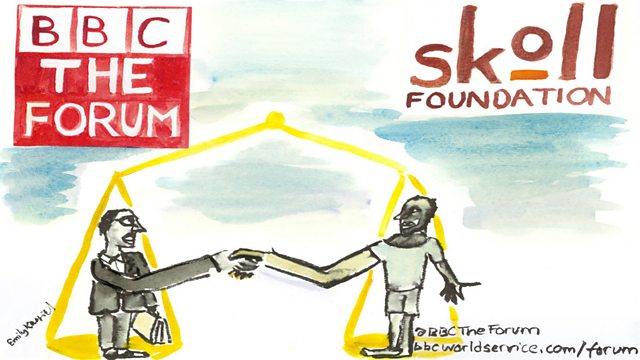 The Forum @ Skoll 2012
This week the Forum is in Oxford, at the Skoll World Forum gathering of social entrepreneurs, who seek to transform the world by empowering some of the world's poorer communities.
Social enterprises usually support worthy causes but how can a powerful investor and a vulnerable small business in need of funding really have a partnership of equals?
And how do outside innovators avoid the trap of imposing outside ideas on communities keen to preserve their traditions and their own vision?
Bridget Kendall is joined in on stage at the Saïd Business School by UNICEF'S Geeta Rao Gupta, and two social entrepreneurs, William Foote and Brizio Biondi-Morra. Plus a lively audience ready to share thoughts, doubts and experience.
Illustration by Emily Kasriel
Last on