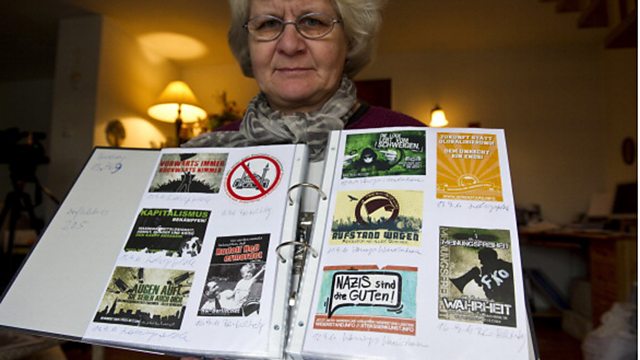 27/03/2012
Extraordinary personal stories from around the world.
Today, Berliner Irmela Mensah-Schramm tells Jo Fidgen why she has made it her mission to clear the city of neo-Nazi propaganda. Every day the 66-year-old goes out with her metal scraper and a can of spray paint to photograph, then destroy, any slogans with a far-right message.
Also today, the British woman who suffered a heart attack in her thirties - and was left without a memory.
And, the blind climber from Austria who's determined to scale the world's highest summits.
(Image: Irmela Mensah-Schramm displays a scrap book containing far right and Nazi stickers she has removed from public places over the years. Credit: JOHN MACDOUGALL/AFP/Getty Images)
Last on
Wed 28 Mar 2012
01:32

GMT