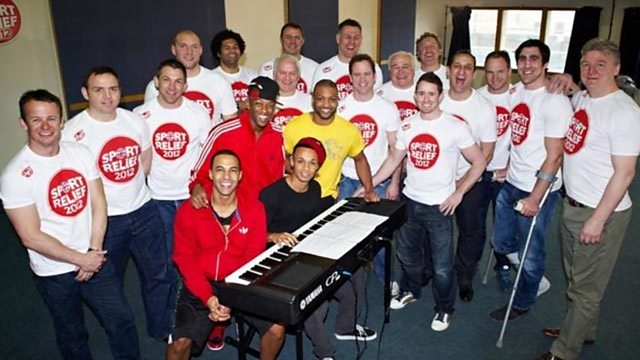 The Sport Relief Big Hitters
'The Sport Relief Big Hitters', a chorus of Rugby's finest, will try and hit all the right notes when they perform their version of JLS's official Sport Relief single 'Proud' on Sport Relief night, Friday 23rd of March.
They've had their warm up, in front of 82,000 fans at Twickenham, but they will need to raise their game for the BBC show.
The 23 strong Big Hitters features some of rugby's greatest legends including Austin Healey, Ben Kay, Brian Moore, Colin Charvis, Kyran Bracken, Mike Catt and Shane Williams who are all better known for their sporting rather than singing skills.
To ensure they're all making sweet music, The Big Hitters have been working with vocal coach Zoe Tyler. And to help them overcome their tears, tantrums and tone deafness, they have been mentored by JLS, the UK's hottest pop group, who'll perform with the choir of Rugby stars live on Sport Relief's Night of TV.
Speaking about working with The Big Hitters, JLS's JB said: "Meeting and working with them has been a real honour and it's been great to help them practice for their big performance and do something amazing for Sport Relief."
The official Sport Relief single, Proud, is available to download and to buy in stores.