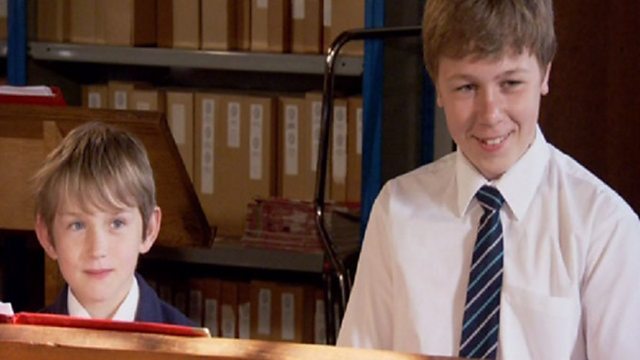 Inheritors of a 900 year tradition - today's Salisbury Cathedral choristers
Salisbury Cathedral's girl and boy choristers, aged between 8 and 13, have come back to school early to prepare for the Easter services. In the cathedral's old Song Room, the boys are put through their paces by Salisbury's Director of Music David Halls.
Boys have been singing day-in day-out at Salisbury for some 900 years and belong to one of the oldest choirs in England. Salisbury's girls choir is equally historic. In 1991 Salisbury became the first cathedral to give full equality to girls, with identical funding and duties to the boys.
It's Palm Sunday, and donkeys join worshippers in the cathedral's great nave as the choir sings Gibbons 'Hosanna'. Freddie, 12, explains what it's like singing in the Cathedral while Susanna, 10, tries to put into words how important singing is to her.