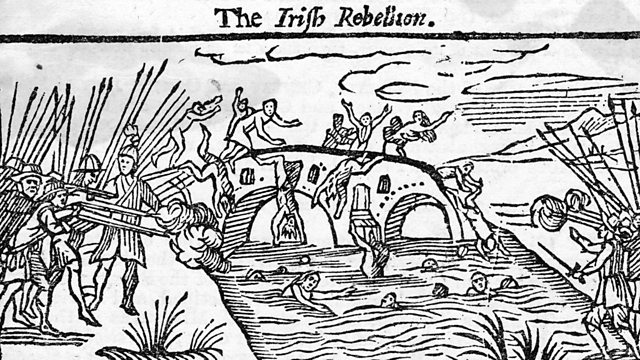 The Plantation of Ireland in The Counties of Armagh and Tyrone
Listen in pop-out player
Melvyn Bragg travels to Northern Ireland to investigate the lot of the native Irish workers at the end of Elizabethan era and the history of the Ulster Plantation. With Dr Jonathan Bardon of Queen's University, Belfast; Dr Hiram Morgan of University College, Cork; Professor Nicholas Canny of the National University of Ireland in Galway and Roddy Hegarty of Federation for Ulster Local Studies.
Ulster, one of the four ancient provinces of Ireland, remained largely independent of English rule until the end of the 16th century. The English had tried to break the powers of the Gaelic overlords primarily through military conquest. Many of the Gaelic gentry were attracted by the security of land title that the Crown promised. The seizing of land by expansionist overlords, such as Hugh O'Neill, had created great resentment among the lesser lords. Many of this class had fought against O'Neill and initially welcomed the plantation.
The plantation period the programme analyses, is the half century between the Tudor conquest of Ulster in the 1590s to the rebellion of the Ulster Irish in 1641.
During the period of mid 16th century to mid 17th century, Ulster was unique in being the only place to be colonized on a major scale within Europe.
James I was closely involved in the planning. The official government sponsored plantation of Ulster (previous plantation schemes had been privately organized) began in 1610, initially with the co-operation of many Irish landowners.
The Ulster Plantation, like earlier 16th century plantations in Leix, Offaly and Munster, was chiefly driven by the English government's desire for financial gain and increased security, pragmatic concerns rather than a political or religious crusade.
The aims were: to replace Gaelic law with English law; protect against future alliances between a Gaelic Ulster and Spain; establish the king's title to confiscated lands and to offer land to English servitors and settlers.

Last on