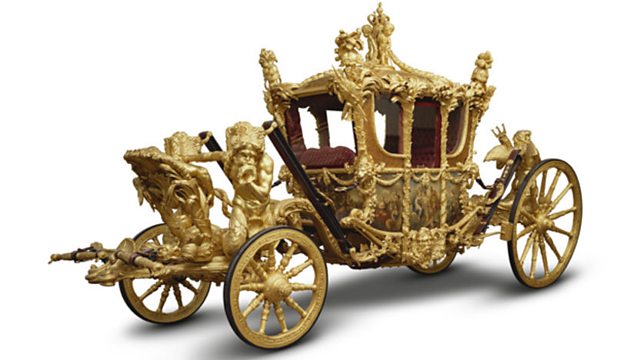 The Art of Monarchy - Magnificence - The Gold State Coach
The display of power through objects designed to impress and inspire has been vital in ensuring the status of the monarchy, and by reflection the nation.
The Gold State Coach designed by Sir William Chambers (1723-1796), made by Samuel Butler, with carvings by Joseph Wilton (1722-1803), painted decoration by G.B. Cipriani (1727-1785). The Gold State Coach has been used for every Coronation since 1762 and, in the present reign, has also appeared at the Silver and Golden Jubilees.
In this series, BBC Arts Editor Will Gompertz encounters dozens of these unique objects - some priceless, others no more than souvenirs - each shedding light on our relationship with the monarchy and giving a glimpse into the essential ingredients of a successful sovereign.
Featured in...
Art of Monarchy - Magnificence - Highlights from the Radio 4 collections

Art of Monarchy - Highlights from the Radio 4 collections