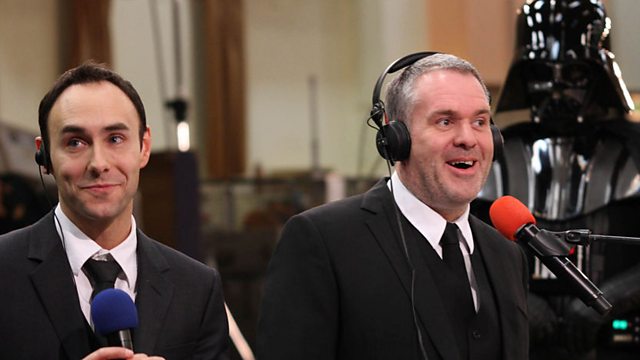 The Chris Moyles Birthday Show Highlights
06:35 - We're all at Maida Vale this morning for Chris' birthday show. We've dressed up especially and are all wearing suits and dresses. We then discuss what may or may not be happening today and then play a song before 7am (!) 'cos Chris needs to get into his suit
07:05 - Chris has got his suit on and looks great. We all now officially look fantastic and what a show we have planned for you today!
07:20 - Classical Class and we discuss how large Matt Fincham's toursers and how low his crotch is riding. We also discuss clip on bow ties and the real ones.
07:35 - A surprise guest is in next...
07:45 - Maverick Sabre is here and has written a song for Chris
08:00 - Chris is needed in reception, so he heads there and is greeted by Darth Vader and some Storm Troopers, who take him to the Maida Vale concert hall which has a 60 piece orchestra in it! The orchestra plays Star Wars for Chris and then some of his jingles.
08:20 - Pixie Lott is here with a special song for Chris, accompanied by the orchestra
08:35 - Fearne Cotton and Scott Mills are here to wish Chris happy birthday and Fearne has baked some cupcakes
08:50 - Sara Cox pops out of a cake and sings Chris happy birthday. She's then only joined by bloomin' JLS and OneDirection!
09:10 - We have some more fun with the orchestra
09:25 - We discuss Matt's crotch and Aled's mismatched suit
09:50 - Car Park catchphrase with Jimmy Carr and Orishe from JLS