Thought for the Day - Akhandadhi Das
Duration: 03:00
Good morning. The question's been raised: How religious are those who claim to belong to a religion? The survey published this week on behalf of the Richard Dawkins Foundation for Reason and Science reveals a wide range of belief, practice and affiliation amongst those who identified themselves as Christian within the 2011 Census. Hardly surprising. I certainly recognise the same spectrum of commitment within the Hindu community. But, rather than see this as an indictment of religious belief within society, it indicates continuing deep-rooted attraction and interest for spiritual answers and perspective in a world which offers many varieties of faith as well as so many alternatives to it.

What intrigues me is that many atheists also seem to have mixed commitment and beliefs. Often, I hear comments from those claiming an atheist outlook, but who simultaneously acknowledge weird and wonderful things that suggest sacred experience or hint at the continuation of life after death in some form or other; notions that just don't square with a 100% deterministic standpoint.

My feeling is that we don't find it easy to remain entirely consistent with our stated belief systems. Either, we are inconsistent living up to the ideals of the spirituality we claim to follow. Or, we are inconsistent being as non-spiritual as we say we are. So, we should allow for this inconsistency within ourselves and others, and apply a little humility so that we avoid hypocrisy, intolerance and fundamentalism: things that can affect both religion and secularism.

Hindu sages have traditionally supported the state being non-sectarian – not partial to any particular religion – mainly because they considered every soul, regardless of religious belief or its absence, as part of the human desire to understand the mystery of life.

It is rational to question the role of organised religion throughout history. It's also reasonable to challenge certain concepts of God. But it's not rational to dismiss out of hand the idea that the universe might have its origin and cause in a transcendent realm beyond the cosmos. The contention that nothing exists beyond the material elements cannot by definition be proved and therefore remains a matter of faith albeit atheistic faith. And, one in danger of being as narrow, biased and intolerant as the religions it criticises.

Being secular doesn't mean removing any discussion or involvement of spirituality in political or social matters. We carry our beliefs and philosophies with us. They inform our opinions and attitudes on everything. A secular society must allow for broad debate from all angles, but, doesn't give precedent to a specific view simply because it is religious nor because it is not religious – but because it resonates with the values and goodness that we believe in together.
Available since: Thu 16 Feb 2012
This clip is from
Including Yesterday in Parliament, Sports Desk and Thought for the Day.
First broadcast: 16 Feb 2012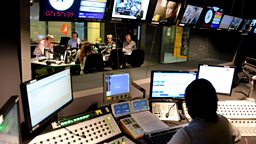 Featured in...
Reflections from a faith perspective on issues and people in the news.