World Class Brass
Duration: 15:09
Colin Salmon takes listeners on a journey from the deserts of India to the rainforests of the Caribbean - in search of some truly unusual, uplifting, and thoroughly infectious World Class Brass.
In the twilight of British colonial rule, all around the world, brass bands were the soundtrack to Empire. But as country after country gained independence, the old military tunes fell out of use, replaced by a distinctive, local sound.
The journey begins relatively close to home, in the tiny island nation of Malta. The only country to be awarded the George Cross, Malta is fiercely proud of its British brass band heritage. From the colourful summer "festas", where thousands dance in street processions, to the terraces of its passionate football fans, the sound of brass is never far away. But with Maltese culture a mix of British, Italian and North African influences, Malta has marched the British brass band to surprising new places.
From the Mediterranean we take a giant leap to the deserts of northern India, where generations of brass musicians have played for local royalty: the Maharanas and Maharajas of Rajasthan. Nowadays, most bands find employment leading the festivities at marriages, proof of the old Indian saying "no brass, no wedding".
Indian brass bands may have their origins in the British military ensembles of the Raj, but the influences go both ways: our guides are the British group Bollywood Brass Band, who travel to India to lend an "exotic" touch to a high-society nuptial, bringing the story of British-Indian brass full circle.
Available since: Sat 4 Feb 2012
This clip is from
Colin Salmon introduces listeners to some unusual and uplifting brass music.
First broadcast: 30 Jan 2012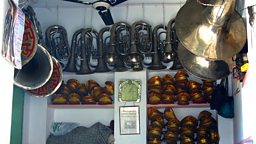 Featured in...
Music Highlights from BBC Radio 2
More clips from World Class Brass