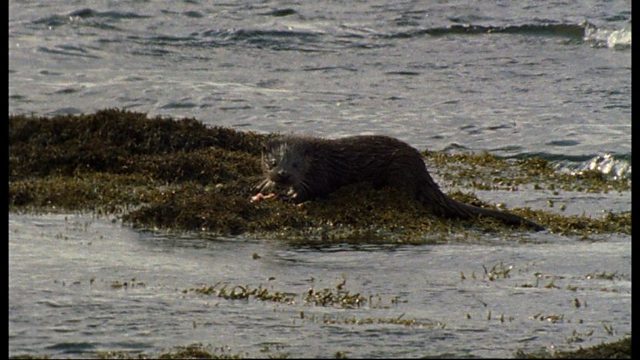 Mull's otters
Pretty much all the coastline round Mull is great for otters so at this time of day with an incoming tide, you've got a good chance of seeing them if you just keep your eyes peeled. There's an otter on the rock – two in fact eating an eel. One of the otters goes back into the sea and one's back up on the rock munching at something. You don't get much closer to otters than this really. Otters haven't been hunted on Mull or trapped for quite a number of years, so they don't really have any predators. The otters along this stretch of the road see cars and people all the time so it's nothing unusual. Every time they are spotted, people stop and watch them, so over the years they just get more and more tame. This rock that this one's feeding on is completely submerged as the tide's on its way in. Gordon moves on and spots another two otters playing about on a little patch of sea weed out there. They seem to be rooting about in the sea weed, probably looking for crabs or eels. Gordon realises that there are actually three otters here, but not the close up view he hoped for.
Credits
| Role | Contributor |
| --- | --- |
| Presenter | Gordon Buchanan |
| Camera Operator | Gordon Buchanan |
| Director | Roger Webb |
Featured in...
The best of British seasonal wildlife highlights in video.

Be captivated, informed and inspired by the world's wildlife.