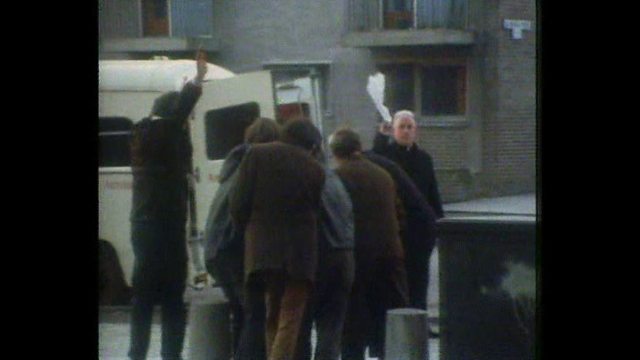 Civilian recollections of Bloody Sunday
Journalist Peter Taylor's documentary on Bloody Sunday was made 20 years after the event. In this clip, civilian witnesses recall the day.
Denis Bradley, a local priest at the time, remembers a soldier firing without aiming: "this shouldn't happen, this shouldn't be going on, this is not the way the British Army perform."
Dr Raymond McClean recalls believing that he thought they were all going to be shot: "I thought 'I wish I had a rifle' – and that was just a natural reaction, I thought if I'm going to be shot I need something to defend myself with."
Denis, a marcher on Bloody Sunday, describes seeing one of his fellow marchers being shot in the face. This man did not have a weapon: "Nobody had stones or weapons or anything of that nature."
Peter Taylor informs us that the last four men died in Glenfada Park as they tried to flee to safety through the alleyways at the back of the courtyard, five others were wounded. It was here that Gerry Donaghey was shot dead; he was 17 and the youngest victim of Bloody Sunday. Gerry was a member of the Junior IRA (Irish Republican Army), known as The Fianna. Denis recalls his friend's wounds and injuries.
Dr McClean remembers reports coming through of the tally of the dead while he was helping to put bodies into the ambulance and describes the disbelief at what had happened.
Credits
| Role | Contributor |
| --- | --- |
| Presenter | Paul Hamann |
| Reporter | Peter Taylor |
| Producer | Steve Hewlett |
| Participant | Denis Bradley |
| Participant | Dr Raymond McClean |
Featured in...
British Army soldiers kill thirteen innocent civil rights demonstrators in Londonderry.