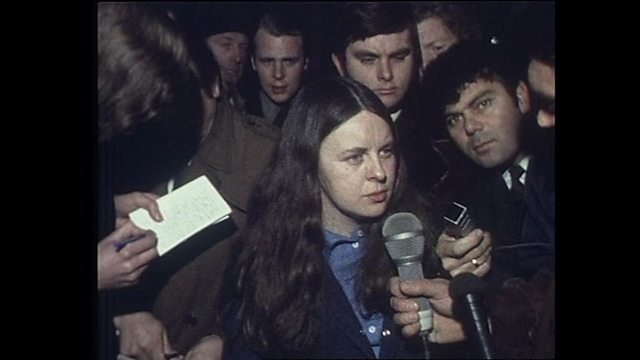 Bernadette Devlin attacks British Home Secretary
Bernadette Devlin speaks about attacking the British Home Secretary Reginald Maudling in the House of Commons earlier that day after objecting to his statement on the events in Londonderry on Bloody Sunday the previous day.
As the only Member of Parliament present in Derry on the day in question, Miss Devlin was offended by the refusal of the Speaker of the House of Commons to recognise her requests to speak during the parliamentary session on the matter, ignoring the convention that members witness to events under discussion would be offered the opportunity to speak on them.
Speaking to gathered reporters outside, Miss Devlin said that she saw her actions as delivering a proletarian protest to the Home Secretary at his responsibility for the murder of 13 people. When asked by a reporter, "do you feel any share of responsibility in what happened yesterday?", she responsed that she did not. When asked if she intended to apologise to Mr Maudling, Miss Devlin replied "I'm just sorry I didn't get him by the throat."