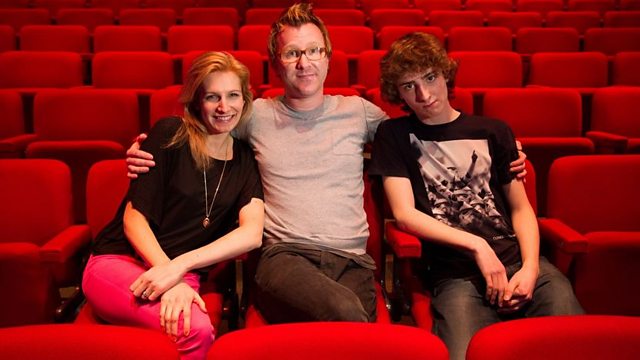 Jason Byrne's sitcom - one of the cast lose the plot!
Footage from the recording of Father Figure by Jason Byrne, a new family sitcom for BBC Radio 2 starring Byrne, Lucy Montgomery, Michael Smiley and more.
Watch out for one of the cast corpsing quite spectacularly – it'll probably be the person you least expect!
This is from the first episode and it is set in a car. Tom the Dad (played by Jason Byrne) is driving, Elaine the Mum (played by Lucy Montgomery) is with him, as is their teenage son Dylan (played by Dominic Applewhite). Also in the car are Grandma Mary (played by Pauline McLynn) and Granddad Pat (played by Dermot Crowley). They are heading off to a cousin's wedding, it's raining, there is heavy traffic, Grandad's worrying about his leg swelling and teenage son is whinging about being squashed in between his grandparents – a circumstance enough to test the patience of the most loving family. In this filmed extract we join them as the car breaks down and they have to pull over in a lay by. Before long best friend Roddy turns up, and the group is complete.
You can hear the episode at 22.00 on Saturday 4 February (BBC Radio 2) and on iplayer thereafter for 7 days. Next episode: Birthday Lunch - much to his Mum's consternation Tom decides to cook his Dad a Birthday meal and Roddy brings something deeply unappetising as an appetiser.
Cast:
Tom Whyte.... Jason Byrne
Elaine Whyte.... Lucy Montgomery
Dylan Whyte .... Dominic Applewhite
Mary Whyte.... Pauline McLynn
Pat Whyte.... Dermot Crowley
Roddy.... Michael Smiley
Producer.... Julia McKenzie.