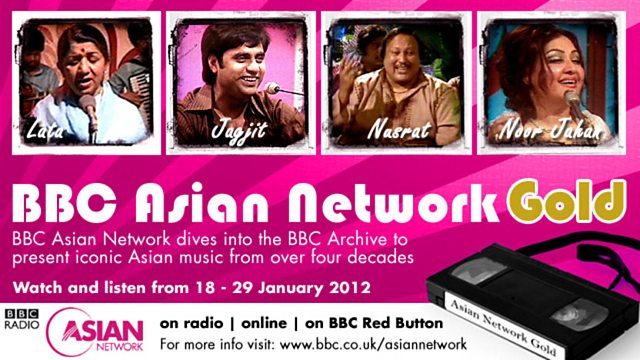 Promo: Asian Network Gold
BBC Asian Network dives into the BBC Archive to present iconic Asian music from over four decades. Watch 'Asian Network Gold' from Sunday 22 January on BBC Red Button.
From Wednesday 18th to Sunday 29th January 2012, the station celebrates and shares footage from BBC Asian programmes from the 60s, 70s, 80s and 90s. The BBC Red Button programme, presented by former Network East presenter, Sonia Deol, pulls together some iconic performances from the biggest Asian artists ever to have recorded at the BBC, through programming including the BBC's dedicated Asian television shows, 'Nai Zindagi, Naya Jeevan', 'Gharbar', ' Asian Magazine' and 'Network East'.
Viewers will enjoy footage from artists that are no longer with us such as Bollywood singer, Kishore Kumar, Qawwal Maestro, Nusrat Fateh Ali Khan, Pakistani legend, Noor Jahan and British Asian pop diva, Nazia Hassan. Punjabi folk singer, Gurdas Maan, the nightingale of India, Lata Mangeshkar and Pakistani ghazal singer Mehdi Hassan will also be showcased.
The programme will form part of the Asian Network's 'Heritage' programming in January, where classic music and interviews from the BBC Archive will be played out across the digital radio station. For over four decades the BBC has broadcast dedicated Asian programmes across TV and Radio.
The BBC Red Button programme will be available on Digital TV across Sky, Freeview, Freesat and Virgin from 6am on Sunday 22nd Jan until 4am Sunday 29th January.
Duration: