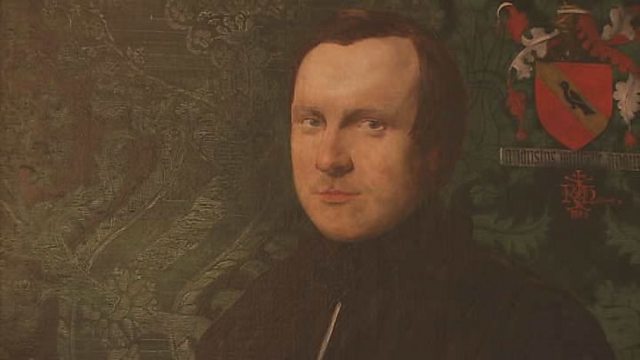 Pugin: God's Own Architect
2012 marks the two hundredth anniversary of the birth of an extraordinary man.
Augustus Charles Welby Pugin was born in the same year as Charles Dickens and, arguably, did as much to define and shape Victorian Britain, but, by comparison, he is neglected.
Pugin lived for only forty years but during his short life he blazed a trail that is still with us today.
This is the story of a driven, scandalous, genius of a man who was imprisoned for debt, widowed, bankrupted, shipwrecked and eventually confined to Bedlam; but it is also the story of a man who had a vision for Britain and whose life's work still defines our country today.
In this programme, Richard Taylor restores Pugin to his rightful place as one of the giants of the Victorian age by taking us into his Gothic fantasy land. From the Houses of Parliament to Alton Towers, from thousands of churches throughout the country to the details and furnishings of suburban family houses, Pugin changed the face of Britain with his visionary Gothic architecture.
Richard explores Pugin's eccentric childhood, as the cosseted only child of a pseudo-aristocratic Frenchman yearning for a better past, and a social-climbing English mother who yearned for a better future. Richard explores the atmosphere of exclusion, ambition and high drama that made the child become the man.
From the age of six, Pugin travelled with his father who was employed as an artist making scaled architectural drawings of medieval buildings like Lincoln Cathedral and the great ecclesiastical buildings of Northern France. It was these visits that formed Pugin's first and most enduring idea of the Gothic.
As Pugin became a teenager a love of the theatre and of women came to the fore, evidenced by his instinctive flair for the dramatic and an enduring fascination with sensational gossip and scandal. Richard tracks the affairs of the young man from 'sleeping in private boxes' with the actresses of Covent Garden to constructing massive and detailed sets on the stages of Drury Lane, all against the background of the thriving, exploding, dramatic metropolis of London itself.
The Industrial Revolution fired a belief in progress. This was the age of the steam engine and the railways, of the great manufacturing cities and the rising middle classes, of mass production and mass consumption. But it was also an age of unprecedented misery and of social anxiety on a scale never before seen.
Social revolution exploding on the continent, riot and agitation in Britain, the undermining and the destruction of community and the countryside and the explosion of ugly overcrowded city slums with their moral and physical squalor - all of these had a profound effect on Pugin. It's in this context that we see Pugin's vision take shape in the new Jerusalem that he set out to build throughout Victorian Britain.
For Pugin, God wasn't to be found in the great mills of Manchester or the smoking chimneys of Birmingham but in tumble-down cottages, with their twisted ancient half-timbering, in the oriel windows of Oxford and Cambridge colleges and in the soaring steeple of Salisbury Cathedral. In his eyes the medieval age shone through the factory smoke and city grime as a pathway to a more moral life. It evoked the time of Magna Carta, of chivalry and heraldry, and of the first English parliament. It represented a lost age of social and moral harmony – and crucially, for Pugin, it was Catholic.
Like all giants of the Victorian age, Pugin's proselytising vision was epic. He didn't just have a sense of what buildings should look like, but went much further – his was a holy mission to create not just a great country but a good and moral one. We follow Pugin on his 'road to Damascus' as, driven by these religious passions, he sets out to build a new Britain both physically and morally.
Pugin's singular vision of Britain is still to be found in hundreds of nineteenth century Gothic churches across the country. An outspoken Roman Catholic, at a time when religious discrimination was rife, Pugin's particular brand of Catholicism was as eccentric as it was passionate. He once stormed out of a church when the choir sang Beethoven instead of plainchant. Ever the outsider, the man who built Parliament was to endure endless attacks from the anti-Catholic establishment, while the man who built Catholic churches repeatedly exasperated his fellow Catholics by his refusal to compromise.
Pugin's Gothic designs were not confined to churches. They can be found - still - in village schools, railway stations and in family homes, whether these are aristocratic mansions like Alton Towers or suburban houses with their high-pitched roofs, arched and pointed windows and stained glass porches.
Working - with some difficulty - under Sir Charles Barry, Pugin's tour de force would be the rebuilding of the Palace of Westminster, exemplified in the dazzling interiors of the House of Lords and the stupendous clock tower which would become famous as the home to 'Big Ben'. In this magnificent edifice Pugin was creating the ultimate Gothic citadel with its gold turrets, panelling and vaulting, and in the highly wrought, ornate detail that can be found even in the most obscure corners. This is arguably the most English of buildings, tapping into the Romantic English past of knights and chivalry, of peace and prosperity.
Richard also takes us to Pugin's final home in Ramsgate, which he designed himself, and to St Augustine's, the church nearby, which he both built and funded and which almost bankrupted him. Even when his faculties were failing him what he created here is pure Pugin. The final detail would come with the addition of a finely wrought medieval tomb - which would be Pugin's own resting place.
But it is in Cheadle, Staffordshire, that we discover Pugin's ultimate manifesto in the dazzling St. Giles' Church where every inch is dripping with gold decoration, every fragment of glass is stained and medieval England is brought triumphantly back to life, complete with Doom painting, rood screen, high altar and broach spire.
Courageous, fanatical, ridiculous, heartfelt, fragile, explosive and utterly compelling – Pugin's life makes up one of the great stories of an extraordinary age, one that is every bit as fantastical as any tale of fiction by Dickens.
More than that, Pugin's life's work would come to re-define what it means to be British for all of us.
Credits
| Role | Contributor |
| --- | --- |
| Presenter | Richard Taylor |
| Director | David Johnson |
| Producer | David Johnson |
| Executive Producer | William Lyons |