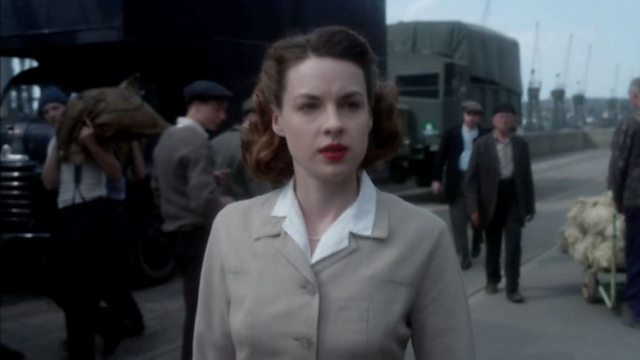 Jenny Lee Starts Her New Life as a Midwife
In the spring of 1957 newly qualified midwife Jenny Lee (Jessica Raine) arrives in the East End of London to begin her career.
She walks through the busy working docks and into a street of tenements where she is surprised to find two women fighting, egged on by a rowdy crowd of onlookers.
The police are unable to break the women apart, and the vicious fight is only stopped by the arrival of Sister Evangelina (Pam Ferris), one of the Nuns of the Order of St. Raymond of Nonnatus, who work as midwives in area.
Credits
| Role | Contributor |
| --- | --- |
| Jenny Lee | Jessica Raine |
| Sister Julienne | Jenny Agutter |
| Sister Evangelina | Pam Ferris |
| Sister Monica Joan | Judy Parfitt |
| Trixie Franklin | Helen George |
| Cynthia Miller | Bryony Hannah |
| Sister Bernadette | Laura Main |
| Fred | Cliff Parisi |
| Dr Turner | Stephen McGann |
| PC Peter Noakes | Ben Caplan |
| Pearl Winston | Lorraine Stanley |
| Maureen Warren | Hayley Squires |
| Conchita Warren | Carolina Valdes |
| Len Warren | Tim Faraday |
| Mrs Hawkes | Lacey Bond |
| Eddy | Benjamin Wilkin |
| Muriel | Sarah Ridgeway |
| Registrar | David Annen |
| Voice of Mature Jenny | Vanessa Redgrave |
| Director | Philippa Lowthorpe |
| Producer | Hugh Warren |
| Writer | Heidi Thomas |