Thought for the Day - Rev Rob Marshall
Duration: 02:45
Good Morning. The Cabinet met at the Olympic Site yesterday and apparently intend to take the message of the sense of expectation and anticipation around the Olympics out to every part of the United Kingdom.

Meanwhile, the Olympic Park Legacy Company announced details of contracts for other key Olympic venues: the futures of the Aquatics Centre/Handball Arena/Observation Tower now seem secure and the hope is that they will provide enjoyment and excitement well beyond the Olympics themselves.

Early on Saturday morning, I took a bus to Stratford and visited the Olympic Site for myself. I saw it from very close by and "felt" it and admired it. The main buildings are visible, there is still a lot of work going on – but there are already clear improvements in the area by way of new public transport facilities, shopping space and a general sense of optimism. I felt really proud and reinvigorated, quite excited even, when I jumped on the bus home.

The Olympic Park Legacy Company is, of course, under a great deal of pressure to live up to its name. Legacy is one of those words easily banded about. It also invites disproportionate amounts of cynicism and criticism because everyone has a view as to what a true legacy represents.

But any legacy is multi-faceted. As well as incorporating the sense of a historic series of happenings or an event being handed on, it can also invoke some kind of spiritual feel-good factor which is difficult to express or explain.

I hear many people talk about faith in such a way and understand how what has been handed on to them helps them to understand contemporary challenges and questions. The Wisdom Literature of the Old Testament is keen on the theology of building on the legacy handed on to us in order to create a better and brighter future in faith. The Book of Proverbs describes the true legacy of wisdom leading to glory and fulfilment, whilst those who waste what has been given to them only inherit the legacy of fools (Proverbs 3.35).

So a true legacy is obviously much more than a set of buildings given a fresh purpose after the event. It is rather about character and spirit, about longevity and memory: something which is lasting and has meaning because we believed in it.

There are now just 199 days to go to the start of the Games and the choice is truly ours: to retreat into a kind of knowing foreboding or to embrace the spiritual lift which the games will surely give the whole nation and look forward to a true, lasting, and in the words of the book of Proverbs, a wise legacy.
Available since: Wed 11 Jan 2012
This clip is from
With Labour leader Ed Miliband and discussing HS2 and healthy nudges.
First broadcast: 10 Jan 2012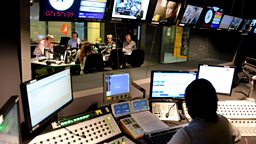 Featured in...
Reflections from a faith perspective on issues and people in the news.