Thought for the Day - Rev Lucy Winkett
Duration: 03:29
It's a worrying time for women who have had breast implants. This particular issue has highlighted the cosmetic surgery boom that is happening in our culture. The "industry", for that is what it now is, is worth a colossal £2.3 billion a year and the number of procedures, including the enlargement of women's breasts - and interestingly the reduction of men's - is growing and showing no sign of slowing down.

The arguments are being had now in public about the regulation of the private cosmetic surgery clinics, the layers of authorisation that is necessary for safe surgery to be carried out and the relationship between UK law and EU directives.

There are of course very good reasons to have therapeutic cosmetic surgery after a mastectomy for example, but it is the cultural questions that are most compelling as the popularity of cosmetic surgery increases. Having a boob job or a nose job or botox treatment for women and increasingly for men is something that budgets are tightened for, savings are made for. On a recent television game show, when asked what they would spend the money on if they won, a significant number of contestants said that they would have an operation to improve their appearance; and the fascination with extreme makeover shows too reveals a growing commitment to the use of invasive surgery to change the way we look. It's important to say of course that deep unhappiness about the way our bodies are can be successfully alleviated by such surgery: there are some people for whom a simple procedure simply works.

But what are the cultural assumptions about personhood that this industry is servicing? Human ingenuity has been devoted to developing 100 different types of filler injected into our faces to make our wrinkles disappear. What is it that encourages women to want bigger breasts, and for men to want their brows lifted? There seems to be a shape that we are aiming for and it's a younger, smoother, more sexually available version of ourselves. Women speak about having more confidence in themselves when their breasts are larger and while both sexes are becoming customers for these operations, in 2010, it was still overwhelmingly women – 90% - who are going through with it.

The Christian tradition has a deservedly terrible reputation with regard to women's bodies. The impossible ideal of the virgin mother is contrasted with the sexually accessible Mary Magdalene as portrayed by artists such as Titian and Rembrandt. Both extremes are fantasies of women that real women can never fulfil.

But the Christian tradition also teaches that all people - men and women - are made in the image and likeness of God; and that there was no mistake in creation when you were made. The pressure on women to look a certain way is enormous and we resist it with difficulty. But to know that our bodies are as they were meant to be would give us more energy to resist the costly and as it seems now precarious consequences of yielding to the pressure to be perfect.
Available since: Wed 4 Jan 2012
This clip is from
Debating how the murder of Stephen Lawrence changed Britain, and the science of meditation
First broadcast: 04 Jan 2012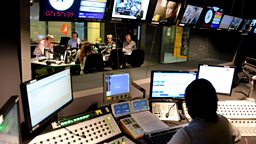 Featured in...
Reflections from a faith perspective on issues and people in the news.