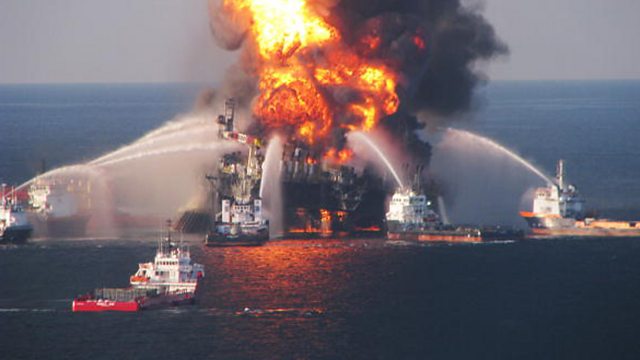 12/01/2012
WATER CURRENTS MOVED OIL AND BACTERIA
After a blowout and a fire on the Deepwater Horizon drilling rig in April 2010 which killed eleven people, an estimated 4.9 million barrels of oil was released into the Gulf of Mexico.
This oil spill was unique, according to David Valentine from the University of California, because it happened at such great depth and contained so much natural gas, predominantly methane, ethane, and propane.
The scientists found that bacterial communities in the Deepwater Horizon submerged plume were dominated by just a few types.
According to a new study by David Valentine and his colleagues, the bacteria bloom by eating discharged methane and other chemicals, while currents bring the mature bloom back to the wellhead, where the bacteria could feast again on the discharged chemicals.
THE END OF AN EMPIRE
It was established by the Khmer Empire in early 9th Century: Angkor, which would become the most extensive pre-industrial city in the world.
Although it is famous for its architectural elements, particularly the temple Angkor Wat, Angkor's most impressive feature is probably its water management system.
The city's location in Cambodia meant the Khmer had to cope with the seasonal rainfall of a monsoonal climate.
To store water the Angkor's hydraulic engineering network was comprised of reservoirs (barays), canals, moats, channels, ponds, and embankments, spread over an area of 1,000 km2.
The largest reservoir constructed by the Khmer, and the only one to still hold water today, is the West Baray. By studying a sediment core from that baray, Mary Beth Day from the University of Cambridge found out that droughts could have been one reason why Angkor finally collapsed in the 15th century.
MAP OF MYSTERIOUS DARK MATTER
A group of astronomers presented the largest map of dark matter ever made at the American Astronomical Society meeting in Austin, Texas.
Dark matter makes up 83% of the universe's matter, but it is not visible, so its presence must be inferred from its gravitational influence.
The scientists used a telescope in Hawaii to map out dark matter's effects on the stars and matter we can see.
The result is the most complete picture yet of one of the great cosmic mysteries.
The BBC's Science and Technology reporter, Jason Palmer, reports from the meeting.
THE END OF A MARS PROBE
The 13 tonne Phobos-Grunt Mars probe has been circling the Earth since November 2011 and should fly to Martian moon of Phobos, but then rocket boosters failed to ignite.
This coupled with a computer malfunction meant that scientists from the Russian Space Agency, Roscosmos, had been unable to contact the probe despite several attempts.
So finally the mission had to be abandoned. It is expected that Phobos-Grunt will fall back down to Earth in the coming days.
Professor Richard Crowther from the UK Space Agency explains more.
(Picture shows fire boats battling a fire at the off shore oil rig Deepwater Horizon on 21 April 2010 in the Gulf of Mexico. Credit: US Coast Guard/ Getty Images)
Last on
Sat 14 Jan 2012
06:32

GMT