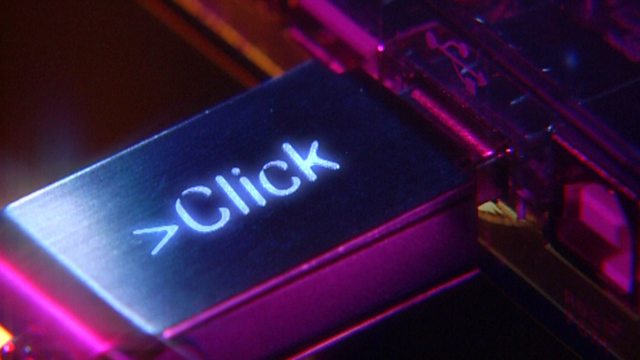 10/01/2012
Click returns to the BBC Radio Theatre in London with a special edition looking at the impact of technology on art. The panel of guests include Cory Arcangel, widely acclaimed as one of the world's leading digital artists. In a range of works from tweaking video games to sampling YouTube music tutorials, Cory Arcangel brings a hacker mentality to the world of art.
Jo Hamilton performs on the programme with one of the few air pianos in existence. This innovative musical instrument involves no touching, plucking or strumming: it is a base unit with sensors that respond to the distance of the player's hand, relaying the information to a computer, producing pre-programmed sounds.
Honor Harger the artistic director of Lighthouse, a hugely influential digital culture agency based in southern England, discusses how art has evolved with technology.
Click is also joined by members of the London Hackspace who will design and put together a unique Click-inspired gadget with soldering irons, circuit boards and other hardware in the course of the programme.
Last on
Sat 14 Jan 2012
22:32

GMT