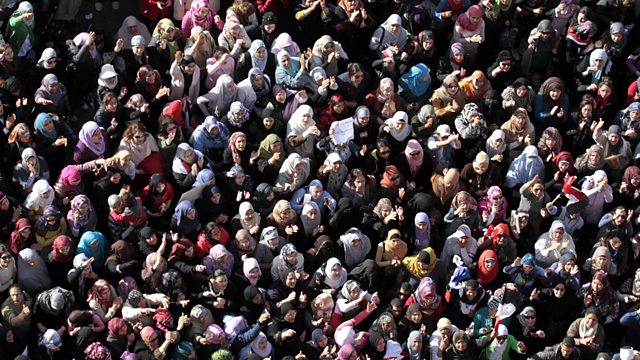 The Women Of Tahrir Square
Women were at the forefront of the revolution that toppled the Egyptian president Hosni Mubarak, in February 2011 and they continue to play a prominent role in the movement that is calling for an end to military rule.
But many are disappointed by the lack of progress made in women's rights over the last year, and by the failure of women to make an impression in politics.
Hanan Razek meets three women who all took part in the '18 Days', the revolution that brought Mubarak down, and whose lives were changed by their dramatic events.
There's Sally, a university graduate in her mid-20s; rumours at the time suggested she had been killed in Tahrir Square, and her parents began funeral preparations. This later turned out to be a case of mistaken identity, but Sally is still dealing with the consequences. She is especially angry that almost no women will be elected to the new Egyptian parliament.
There's Samira, an activist from upper Egypt. Her story is especially shocking. She was arrested in Tahrir Square in the weeks after the fall of Mubarak. Along with 16 other women she was forcibly subjected to a 'virginity test'. Samira, however, is fighting back. She's opened judicial proceedings against the military council ruling Egypt.
Sarah is a member of the Muslim Brotherhood, whose political wing looks likely to be the largest wing of the new party. Just 19, Sarah also spent much of the 18 Days in Tahrir Square. Her ambition is one day to be prime minister of Egypt, but first she has to fight an internal battle to secure more women's representation within the Brotherhood itself.
Many people in Egypt acknowledge the need for reform in attitudes to women but they say now is not the time.
Hanan asks if now is not the time, then when is?
(Image: Egyptian female protesters shout anti-military council slogans at Tahrir Square in Cairo. Credit: Reuters)
Last on