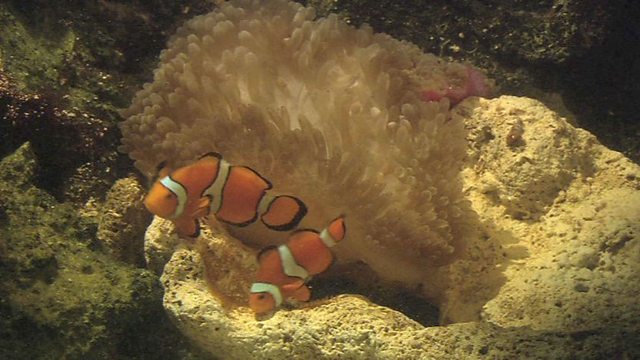 Web exclusive: clownfish
There are nearly thirty species of clownfish which live in anemone homes, the most famous being the true clownfish (Amphiprion percula).
After spawning, a mated pair will select and clean a special spot of the host anemone so they are not eaten! Here, in these intimate moments captured by cameraman Richard Fitzpatrick, you can see the female carefully laying the eggs, whilst the male fans them to ensure they have a constant supply of oxygen.
He will guard and tend to these eggs meticulously over the next eight days or so until they hatch and eventually find their own homes. On the Great Barrier Reef they may see a whale, but it's unlikely they'll have any close encounters with hungry pelicans, fish-collecting dentists or naughty children!

Credits
| Role | Contributor |
| --- | --- |
| Series Producer | James Brickell |
| Presenter | Monty Halls |
| Executive Producer | Neil Nightingale |