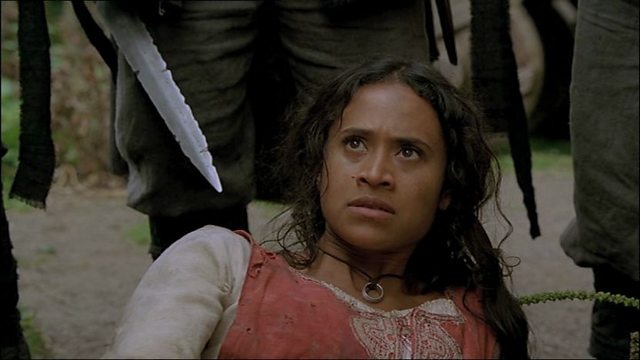 Gwen
An army of Southrons descend upon the village that Gwen has made her home, after being cast out of Camelot. They begin rounding up the young men and killing anyone who stands in their way.
Realising how vulnerable she is, Gwen runs for cover behind the house and straight into the tracks of a bloodthirsty Southron. The soldier raises his sword to deliver the deathblow. As she looks away and waits for the inevitable a powerful figure stays the arm of the soldier, saving the young beauty's life.
But it is instantly apparent this was no a gesture of goodwill, Helios has plans of his own for Gwen...
Credits
| Role | Contributor |
| --- | --- |
| Merlin | Colin Morgan |
| Arthur | Bradley James |
| Gaius | Richard Wilson |
| Gwen | Angel Coulby |
| Agravaine | Nathaniel Parker |
| Morgana | Katie McGrath |
| Princess Mithian | Janet Montgomery |
| Helios | Terence Maynard |
| Sir Leon | Rupert Young |
| Sir Gwaine | Eoin Macken |
| Sir Elyan | Adetomiwa Edun |
| Sir Percival | Tom Hopper |
| Eoghan | Tom Meredith |
| Helios's Servant | Gareth Jewell |
| Voice of the Dragon | John Hurt |
| Director | Jeremy Webb |
| Producer | Johnny Capps |
| Producer | Julian Murphy |
| Writer | Richard McBrien |