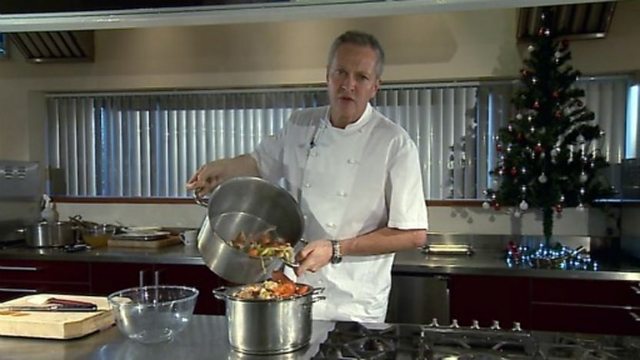 Nick's Top Turkey Tips
Over four weeks, Nick Nairn shares his favourite Turkey recipes. Last week he cooked Turkey and all the trimmings. This week he is using the skin and bones to create a stock and Turkey broth.
Turkey Broth
I have wonderful memories of my Grandma's soups, particularly this one. She would always finish it off with a good sprinkling of chopped fresh parsley – which I thought was pretty exotic at the time! This is my version, and I like to put in rice to give the soup more body. To make it extra special, use a rich stock made the turkey carcasse and chop up some of the turkey into the broth – the secret of a good broth IS the stock.
Serves 4
1.2 litres (2 pints) good turkey stock
75gm diced carrot
75gm diced celery stick
75gm diced onion
75gm diced leek (white and green parts)
sea salt and freshly ground black pepper
a squeeze of fresh lemon juice
120 g leftover cooked turkey, diced
2-3 tablespoons chopped fresh parsley
1 Put the stock into a large pan with the vegetables. Season lightly with salt and freshly ground black pepper, cover and bring to the boil.
Turn down the heat and simmer, half covered for 15-20 minutes.
2 Taste the soup and season again if necessary, adding a squeeze of lemon juice – this will really bring out the turkey flavour. Stir in the turkey, allow to heat through then ladle into warm soup bowls. Sprinkle with parsley and serve scalding hot as my Grandma always did! It tastes even better if it's left to cool and then reheated the next day. It also freezes well.