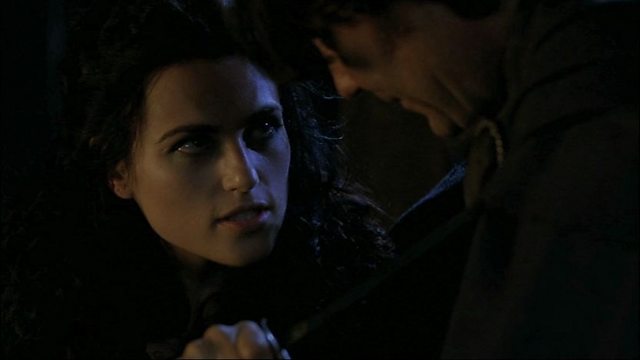 Morgana and Agravaine
Taking a rare moment to rest, Morgana's peace is disturbed as Agravaine invades her hideout in the forest. Scared into consciousness, the High Priestess is quick to draw her knife but her loyal informer has a good reason for the disturbance as he reveals that Morgana's worst nightmare is about to come true - Arthur is to make Guinevere his Queen.
Noticeably shaken by the revelation, Morgana quickly regains composure as she formulates a plan reveal Gwen's darkest secret and in turn destroy her once trusted companion...
Credits
| Role | Contributor |
| --- | --- |
| Merlin | Colin Morgan |
| Sir Lancelot | Santiago Cabrera |
| Gaius | Richard Wilson |
| Arthur | Bradley James |
| Agravaine | Nathaniel Parker |
| Gwen | Angel Coulby |
| Morgana | Katie McGrath |
| Sir Percival | Tom Hopper |
| Sir Gwaine | Eoin Macken |
| Sir Leon | Rupert Young |
| Sir Elyan | Adetomiwa Edun |
| The Dochraid | Maureen Carr |
| Voice of the Dragon | John Hurt |
| Director | Justin Molotnikov |
| Producer | Johnny Capps |
| Producer | Julian Murphy |
| Writer | Lucy Watkins |
| Merlin | Colin Morgan |
| Sir Lancelot | Santiago Cabrera |
| Gaius | Richard Wilson |
| Arthur | Bradley James |
| Agravaine | Nathaniel Parker |
| Gwen | Angel Coulby |
| Morgana | Katie McGrath |
| Sir Percival | Tom Hopper |
| Sir Gwaine | Eoin Macken |
| Sir Leon | Rupert Young |
| Sir Elyan | Adetomiwa Edun |
| The Dochraid | Maureen Carr |
| Voice of the Dragon | John Hurt |
| Director | Justin Molotnikov |
| Producer | Johnny Capps |
| Producer | Julian Murphy |
| Writer | Lucy Watkins |