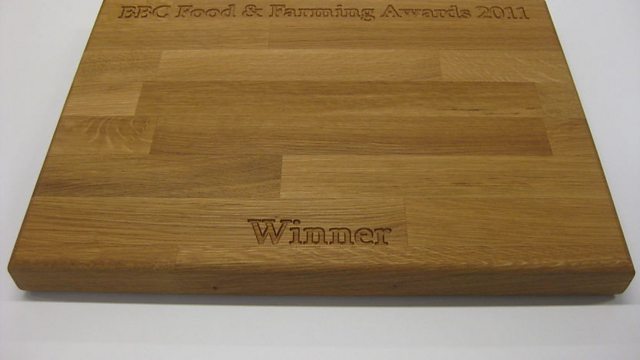 Food and Farming Awards 2011 SOUND SLIDE
Sheila Dillon and the biggest names in food celebrate the UK's best cooks and producers. Rick Stein, James Martin, Valentine Warner and Giorgio Locatelli help announce this years winners.
The event, cited by the likes of Jamie Oliver as the "Oscars of the food world", brings together Britain's best food and drink producers, farmers, street food cooks, dinner ladies, local retailers and food markets.
After sifting through thousands of nominations a team of expert judges have spent weeks on the road travelling to every corner of the UK to meet and judge the finalists. At the Supertheatre in Birmingham's NEC we get to hear who are the "best of the best".
There are ten categories including Best Food Champion, won last year by groundbreaking baker Richard Bertinet, and the Derek Cooper Award, named after The Food Programme's founding presenter and awarded in previous years to the most inspirational and influential food campaigners.
In the programme not only do the food celebrities take to the stage, but also the experience of the judges, working on location illustrates exactly why someone is a winner. It's always a delicious, often emotional and inspirational listen.
Producer: Dan Saladino.