Thought for the Day - Rev Dr Giles Fraser
Duration: 03:15
From at least the second century, Jewish and Christian congregations have structured their worship around set of prescribed readings taken from the Bible. On any given day, and for any given service, fixed readings were laid out in a sort of ecclesiastical diary, known as the lectionary. The idea is that it's not up to the preacher simply to choose the bits of the Bible that he fancies preaching about. The lectionary obliges those who preach to face all the tricky bits of scripture – even if he or she would prefer to retreat into calmer theological territory. And so it was that, preparing my last sermon at St Pauls Cathedral, I opened the lectionary to find the set reading to be from Luke chapter 6: "Blessed are you who are poor, and woe to you who are rich." The lectionary can certainly have a cruel sense of timing.

The last two weeks have been amongst the most stressful of my life. The arrival of the protest camp at St Pauls, the many challenges this posed, and my eventual resignation from the cathedral chapter- in the light of all of this, absolutely the last passage I wanted to preach upon was Luke chapter 6. But the point of a lectionary is that you have to face up to the tough bits. It doesn't allow you to brush these passages under the carpet or pretend they don't exist.

St Paul's cathedral is built on a deep theological fault line. On the one hand it's set within the boiler room of global capitalism. And on the other, it proclaims a theological story that has some pretty fierce things to say about money and wealth. These two powerful tectonic plates, God and Mammon, meet right under Wren's magnificent baroque masterpiece. It's little wonder that St Paul's can be one of the most challenging and uncomfortable places in which to do theology.

None of which is to say that the church is in the pocket of any particular political or economic philosophy. Indeed, I'm not even completely sure that the church should go too far down the road of proposing specific answers to complex economic problems. Rather it is the calling of the church to draw attention to the human cost of financial injustice and to reset the debate about our financial institutions firmly within the context of a bigger story about what human life is for. This has nothing to do with bringing down capitalism. Markets create wealth and jobs – and indeed, those who want to dispense with capitalism are often better at saying what they are against than they are at proposing convincing alternatives. Nonetheless, part of the reason why Christianity is so suspicious of money is that the power and glamour of money can easily corral us into a narrower and narrower sense of what it is to be human – the reduction ad absurdum of which is vast temple-like shopping centres full of people buying things they do not need with money they do not have. And like the lectionary itself, it's the job of the church to make sure that these increasingly urgent and topical concerns must not be dropped from our wider cultural consciousness.
Available since: Wed 23 Nov 2011
This clip is from
John Humphrys gauges the mood in Athens, plus Johnny Depp on his ambition to play Hamlet.
First broadcast: 05 Nov 2011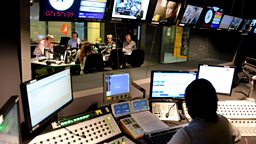 Featured in...
Reflections from a faith perspective on issues and people in the news.