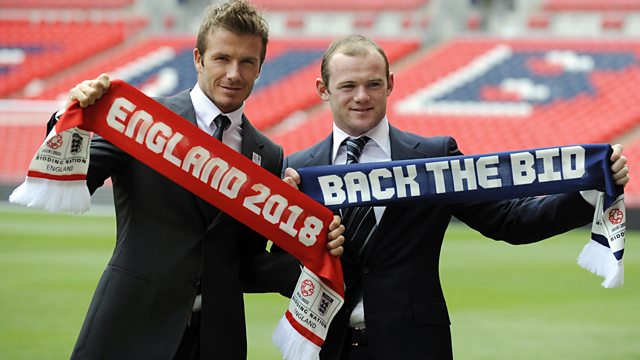 The Bid
After five years of planning and an 18 month campaign to win votes costing more than £15m, England's bid to host the 2018 World Cup ended in humiliation in front of millions of TV viewers around the world.
Exactly a year after Fifa President Sepp Blatter walked onto the stage at the Messe Centre in Zurich and revealed that Russia would be hosting the 2018 World Cup, this drama tells the behind-the-scenes story of what happened in Zurich in the days leading up to the announcement on 2 December 2010.
Focusing on the England bid team - which included David Cameron, Prince William and David Beckham - the drama is based on interviews with many of those who were there, and on published material, and uses actors to play all the key characters.
The England bid team arrived in Zurich with high hopes.
They were well organised, had a strong technical bid and their formal presentation to the Fifa voting executives went without a hitch - it was heartfelt, passionate and had the biggest A-list celebrities.
But behind England's super-confident presentation, a desperate struggle was taking place in hotel rooms and the corridors of Fifa's HQ in Zurich as England jostled with other countries, courting Fifa executive members, lobbying for votes and making deals.
This is a gripping story of hope, broken promises and disappointment - a compelling and entertaining insight into the business behind the game.
(Image: England footballers David Beckham (L) and Wayne Rooney (R) pose during a photocall to launch The England 2018/2022 World Cup. Credit: Getty Images)
Last on
Sun 11 Dec 2011
14:05

GMT